2018 APDT Conference Hotel
Memphis, Tenn.
Sheraton Memphis Downtown Hotel
250 North Main Street
Memphis, Tenn.  38103
Stay in the center of it all at the Sheraton Memphis Downtown Hotel, which is ideally positioned to explore the best of the city. Convention attendees will appreciate the direct skywalk connection to the Memphis Cook Convention Center, and those looking for leisure will love the hotel's close proximity to the sights and sounds of Beale Street and Graceland, the iconic former home of Elvis Presley.
Reservations can be made at the Sheraton Memphis Downtown Hotel until Mon., September 24, to ensure accommodations at the discounted attendee rate. Call (866) 716-8106 or visit tinyurl.com/yam7rt7h, Group Block: APDT Conference to receive room rate of $159: single/double/triple/quad).
**Special Notice
Some companies have been known to solicit meeting attendees and exhibitors with offers of lower rates or nonexistent inventory of hotel rooms. Often referred to as "housing pirates" or "housing bandits," they will phone or email attendees and exhibitors of city-wide events such as this one. It is important to remember these companies are falsely claiming to be affiliated with the event. To protect yourself against these scams, book only with the official Housing Service or host hotel (as identified by APDT and its event website); report solicitations to the APDT at conference@apdt.com immediately, including phone number, email address or web link.
Sheraton Memphis Parking Options
The Sheraton Memphis Downtown is a valet parking only hotel.  However, because we are a downtown hotel there are several parking options available to you and your guests.  The Sheraton Memphis Downtown has no power or control over these alternate parking options and provides this as information only.  All prices are subject to change.
Sheraton Memphis – Parking operated by AAA Parking
$26/per night plus tax
24 hour access
Can be billed to the room
Daily rate is $14/plus tax for non-guests attending a meeting but no in and out
City of Memphis street parking – Adjacent to Sheraton
Meters are both vintage coin only and centralized meters that accept credit cards
Parking at meters is free 6 p.m. to 8 a.m. Monday – Saturday and all day Sunday
$1.00 per hour; 2 hour max Monday – Friday and 4 hour max on Saturday
St. Mary's Catholic Church surface lot – Operated by Best Parking
Located at the corner of 2nd Street and Exchange – directly across from Sheraton valet lobby entrance
Operated by Best Parking of Tennessee
Costs: $5 – $20 depending on number of hours versus overnight
Payment via a kiosk in the lot
Manager is George Pappas who can be reached at gpappas@bestparktn.com
Memphis Cook Convention Center Garage
Operated by MCCC and City of Memphis
Located under the convention center enter on Front Street
From level P2, one can access escalator and elevator which will take them to the Sheraton Trolley Stop on Main Street and/or the Mezzanine level which is the skywalk connector to the Sheraton.  Must have a room key after 10 p.m. to enter Sheraton Hotel.
Note: may not be able to drive out or enter garage between midnight and 7 a.m.
Rates:  $10 daily rate; $18 overnight
Payment via kiosks in the garage near the convention center elevators
Within 2 blocks of Sheraton surface lots – Operated by Premier Parking
Located at the corner of 2nd street and Exchange and another at the corner of BB King Ave and Exchange Street.
Rates:  $5 advertised for day rates because this is where many called for jury duty park. Overnight may not be available.
Contact:  Premier Parking of Tennessee; 421 Church St.; Nashville, TN 37219; office 615-238-2250; Fax 615-254-7888.
Transportation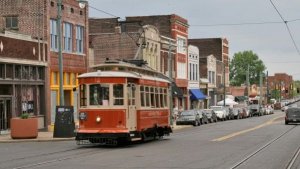 Transportation
To Memphis
Memphis International Airport (MEM) and Amtrak deliver countless visitors here annually, and with I-55 and I-40 blazing through, visitors also could consider a road trip.
For those planning to fly, 10 airlines serve MEM, providing nearly 90 daily flights to and from 36 nonstop destinations. Upon arrival, airport transportation options include rental cars (levels 1 and 2 of the  economy parking facility), limos, public buses (the bus stop is located in front of Terminal C on the baggage claim level), taxicabs and ride share service. An Uber/Lyft ride from MEM to downtown is around $15.

Delta Air Lines is pleased to offer special discounts for APDT conference attendees.
Please Click here to book your flights!
*Please note the following:
· NOT ALL FARES ARE ELIGIBLE FOR A DISCOUNT
· Discounts apply to round trip travel only
· Not valid with other discounts, certificates, coupons or promotional offers
· Fare rules will determine eligibility
You may also call Delta Meeting Network at 1.800.328.1111* Monday–Friday, 7:00 a.m. – 7:30 p.m. (CT) and refer to Meeting Event Code: NMRVN
*Please note there is not a service fee for reservations booked and ticketed via our reservation 800-number
Around Memphis
Once you arrive, you can easily get around downtown on the recently restored vintage trolleys along the Main Street Shuttle line. Trolley fare starts at $1. 
See the sights on the Memphis Hop, a unique bus tour that allows riders to hop on and off at a variety of attractions, restaurants, museums and downtown hotels. If you feel like being active you'll love Big River Crossing, the rails-to-trails renovation of the 1916 Harahan Bridge, which you can walk or bike across the Mississippi River from Memphis to Arkansas. Or cruise down the river itself on a paddlewheeler for a sightseeing or dinner cruise by Memphis Riverboats.
---
Welcome to Memphis
Visit
MemphisTravel.com
to learn more.Memphis is a one of a kind destination that delivers a truly authentic experience. It's where many musical genres converge to create that extraordinary Memphis sound, and where family fun meets urban energy. It's these unexpected combinations that make the Memphis experience so unique and why, no matter how many times you visit, you'll always discover a new beat. Nowhere on earth can you find over 60 one-of-a-kind attractions built around the music that flows from very street corner. Our culinary options serves up everything from world famous barbecue plus a smorgasbord of flavors from eclectic neighborhoods. The soul of the city is forged with the current of the Mighty Mississippi River. From attractions to dining to outdoor adventures, the magic of Memphis is in the mix.Not only do we get it, but the world does too. Many of our attractions were voted number one in USA Today's 10 Best lists including Graceland, National Civil Museum, Memphis Zoo, Sun Studio and Stax Museum of American Soul. Money Magazine named Memphis #3 Most Affordable Destination and Fodor's listed the city as the #6 destination on their 2018 'Go List'.Explore our attractions: 
http://www.memphistravel.com/attractions
Restaurants
Eating in Memphis is an experience for the soul, not just the stomach. Our specialty may be barbecue (Memphis is home to more than 100 barbecue restaurants) but make no bones about it dining out doesn't stop there. There's Southern-style soul food, fine dining, authentic international cuisines, mouth-watering burger joints, award-winning chefs, breweries, distilleries, bars and local eateries serving everything from American classics to eclectic dishes. Discover where to eat in Memphis: www.memphistravel.com/dining
Need some options near the convention center:
http://www.memphistravel.com/meeting-planners/places-eat-near-memphis-cook-convention-center
---
Climate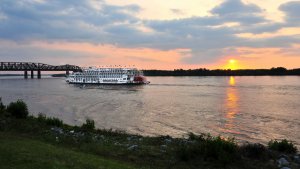 Climate
Memphis sits on the banks of the Mississippi River and experiences four distinct seasons, ranging from sun-soaked summer months to crisp winters without much snow. Summers can be humid, as warm, wet air comes up from the Gulf of Mexico with mild Winters that sometimes dip below freezing.
On average, there are 218 sunny days per year in Memphis, Tennessee. The July high is around 91 degrees. The January low is 31. Sperling's comfort index for Memphis is a 64 out of 100, where a higher score indicates a more comfortable year-around climate. The US average for the comfort index is 54.
---
Graceland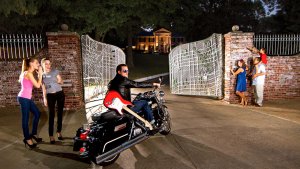 Visit Graceland
Walk in the footsteps of the King of Rock 'n' Roll at Elvis' home, Graceland. The full Graceland experience will take you from Elvis' humble beginnings through his rise to superstardom. See how a rock 'n' roll legend lived and relaxed with family and friends. The Graceland experience includes an interactive iPad tour of Graceland mansion, plus a self-guided tour through our new entertainment complex, Elvis Presley's Memphis! The complex houses Elvis: The Entertainer Career Museum, which is the largest and most comprehensive Elvis museum in the world, and Presley Motors, our new automobile museum. While you're there, check out Discovery Exhibits that cover everything from Elvis' service in the U.S. Army to his style to artists who were influenced by him.
---