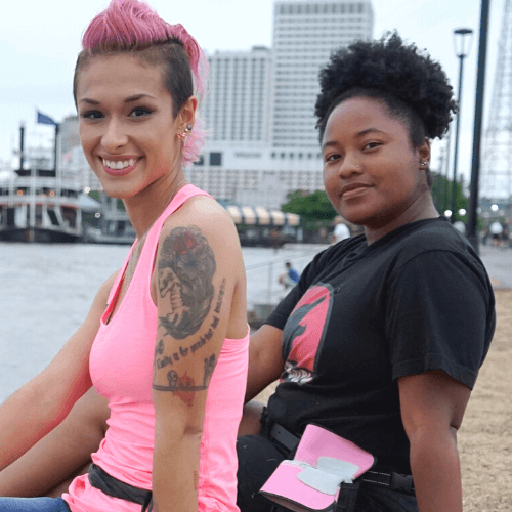 Jiovany Alcaide (she/her) is a New Orleans transplant, originally hailing from Nashville, Tennessee. Upon graduating with her BS in Theatre from Middle Tennessee State University in 2015, Jio made the big move, as it had always been a childhood aspiration of hers to leave her hometown in search of a new adventure. Also on that life checklist was to reward herself for surviving college and get the dog she would finally have time for, which would soon be known as Beetlejuice.
Jio had always known that she had a strong passion for animals, especially dogs, but the only known "successful" career path with animals was to become a veterinarian, which was not something she wanted to pursue. It wasn't until welcoming her tiny, 1 lb, Jack Russell/Dachshund puppy into her home when she realized she had a serious passion for his training and behavior and decided to pursue this interest. She soon bounced between jobs, attempting to find mentorship and guidance and eventually began her official training journey at a doggie daycare, where she met her soon to be business partner and "work wife", Taylor Barconey.
With an extreme hunger for jumpstarting her new career, Jio officially became an official dog trainer with Camp Bow Wow in 2017, and quickly garnished over 300 hours of experience within her first six months, to then go on to earn the CPDT-KA certification title in 2018 with the Certification Council of Professional Dog Trainers (CCPDT). Given her ambition to be taken seriously as a professional trainer, Jio parted ways with Camp Bow Wow and created Smart Bitch Modern Dog Training LC with Taylor Barconey in January 2019. She would later earn her Fear Free Animal Trainer certification the following year and has most recently become an Accredited Dog Trainer (ADT) through the International Association of Animal Behavior Consultants (IAABC).
Upon all her whirlwind advances in her dog training career, she's also proudly added her dream dog, a Doberman Pinscher named Powerline, to the family, and continues to work with her dogs (and cat) daily to improve their lives.