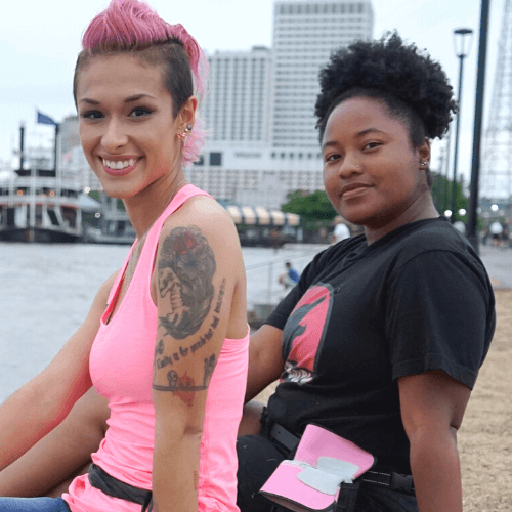 Taylor Domonique Alonda Barconey, CPDT-KA, IAABC-ADT, (she/her) is a native of New Orleans, Louisiana, and began her journey as a trainer through the doggy day care facility, Camp Bow Wow in early 2016. Before working for Camp Bow Wow, she became interested in dog training towards the end of her college career at Xavier University of Louisiana. Taylor graduated from Xavier University of Louisiana in 2015 and received a BS in Psychology, minor in Biology. Recognizing that she had a love for dogs and Psychology, she thought to combine the two to create her future career: dog training! Fast forward to 2016 and onward, she made it a possibility.
In 2017, Taylor became an accredited dog trainer through Camp Bow Wow. She then received her CPDT-KA certification through the CCPDT in 2018. She went on to create Smart Bitch Modern Dog Training LC with Jiovany Alcaide in January 2019. She is now also a Fear Free Animal Trainer and an Accredited Dog Trainer (ADT) through International Association of Animal Behavior Consultants (IAABC). She plans to continue to earn certifications, titles, and more as she continues to educate herself and advance along her dog training career.
Taylor considers herself a dog mom to two Patterdale Terriers named Suri and Sachi aged 10 and 8. She credits them as the reason why she became a dog trainer, as to understand her dogs' needs and provide the most enriching lives for them. Her favorite type of training is trick training and teaching husbandry behaviors. She enjoys experimenting different tricks with her dogs. Her favorite trick to date involved teaching her dog Sachi how to recognize certain words on paper, and offering the behavior spelled.
Taylor's mission is to teach her community that caring for our dogs' mental health doesn't have to be taxing and is quite beneficial for the human and dog bond. Her mission is to also reduce dog bites in her community and beyond, all while promoting rewards-based, science-backed methods.