Cincinnati/Northern Kentucky International Airport (CVG)
CVG is only 10 minutes from Covington, Newport, downtown Cincinnati and dozens of major attractions. Plus, it's located within a two-hour flight of 60 percent of the U.S. population and is one of the easiest airports to navigate—thanks to its modern design and lack of congestion. Travelers have rated CVG SkyTrax's "Best Regional Airport in North America" for the fifth consecutive year.
170 peak day departures to 57 airports non-stop, including 38 of the top-40 U.S. markets
Daily international flights including non-stop service to Paris
Airport's website has the ability to view estimated TSA security wait times and includes the ability to view airport information in 80 languages
Establishment of Allegiant, Frontier Airlines, Ultimate Air Shuttle and Branson Air Express, along with improved service from existing airlines Delta, U.S. Airways, United, AmericanAirlines, Air Canada & more,  has led to more choices, more convenience and better values for passengers
For more information, log on to www.CVGairport.com
Driving Directions
Interstates I-75, I-71 and I-74 link NKY to the continental U.S.
Interstates 75 and 71 are the major arteries running into, out of and through downtown Cincinnati. I-75 flows north and south, while I-71 flows northeast to southwest through Ohio until it merges with I-75 over the Brent Spence Bridge into NKY.
No regional driving experience is complete without a glimpse of "The Cut in the Hill" on northbound I-75 where the Kentucky hills part to reveal Cincinnati's majestic skyline.
Getting Around
We know getting here was easy—Northern Kentucky is less than a half-day car ride, and a two-hour flight from 60% of the U.S. population! Let us show you how getting around the NKY and Cincinnati region will be even easier and a lot more fun.
Breaking News…Traveling from CVG just got easier!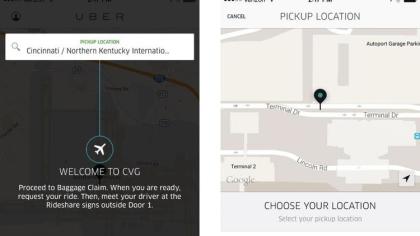 We're so excited that Uber has begun operations at Cincinnati/Northern Kentucky International Airport.
Shuttles
When you leave the airport, you will find the shuttles at the bottom entrance of the terminal (outside the baggage claim area) on the other side of the second strip ("Island 2") near the parking garage. Many airport hotels offer free services.