Mark Forrest Patrick Becomes APDT Chair in January 2021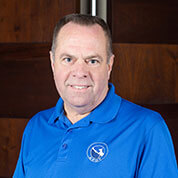 Mark Forrest Patrick, CDT, CVA, CCMT, will become APDT's new Board of Directors chair beginning Jan. 1. He was elected to the board in 2017 and has served as secretary/treasurer and vice-chair previously. He is the owner of Tuxedo's K9 Training Camp in Rochester, New York. Besides Mark, the 2021 APDT board will consist of Fanna Easter, vice-chair and Benjamin Bennink, secretary/treasurer, as officers. Other directors include Heidi Meinzer, Sandy Modell, Inga From and newly elected Michael Baugh, with Khara Schuetzner as immediate past chair.
"It takes a TEAM to make a difference and organization to implement change," Mark said. "Our goal is to continue to grow strategic alliances and partnerships to increase and improve the value of membership to our members. We will continue to network with community leaders to create awareness and value to our members and the community."
MEET YOUR NEW CHAIR
Mark left a corporate customer service management role in the fall of 2008 to bring about his dream of working with animals. He found he had a gift of working with animals as a child living on a farm in Upstate New York where his family raised beef cattle and horses. Mark graduated from the Animal Behavior College (ABC) with a certificate in dog training, pet massage and veterinary assistant. In 2009, Mark's dream became reality when he opened Tuxedo's K9 Training Camp. In 2013 Mark expanded his business and opened a brick and mortar dog training, day care and boarding facility in Rochester. He conducts several levels of training classes in a group class setting and private in-home sessions, with the idea of not only teaching the dog, but also the family members how to interact with their pet. Today, the facility continues to grow with a focus on a 24-hour a day staffed operation. Mark has recently taken on the role as a Behavior Counselor for the local humane society assisting high risk dogs and the staff caring for the dogs with behavior and enrichment plans.
Continuing education has always been important for Mark to keep up to date on training, behavior, and clinical studies. He has attended seminars at Service Dogs, Inc., Alfred University and Cornell University. As part of Mark's training toolbox, he uses massage, essential oils and TAGteach. He also has served his community as a volunteer to assist local rescues and shelters with behavioral and training classes.
Mark has recently implemented a Train the Trainer program at his business to create a more diverse and community friendly business. Through his local inner-city community centers, Mark has conducted education seminars on owning and caring for the family pets. Through this program he hopes to see an increase in the number of families reaching out for group classes and private in-home sessions reducing the number of dogs surrendered to the local shelters.
And speaking of dogs, no shortage of them at Mark's house! He currently owns nine dogs—five Tibetan Spaniels, an English Labrador Retriever, Pomeranian mix, Bichon and a Rat Terrier. He is an American Kennel Club Canine Good Citizen evaluator, published author in two local pet publications and sponsors a pet corner for an online publication. His business has received Angie's List Super Service Award four years in a row. His motto: "Always keep your eyes open to new opportunities because they may be right before you."